The Installation of the new Dean
If you were unable to attend the installation of Dean Ben Truman, you can view the service here.
..............................................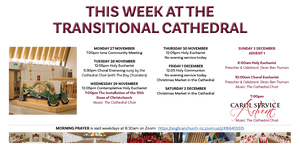 Coming up at the Cathedral ...
Dean Ben Truman welcomes you to the Cardboard Transitional Cathedral
Kia ora, Haere mai, Welcome, Mālō e lelei, Talofa lava, Taloha ni, Kia orana, Fakaalofa lahi atu, Namaste, Ni sa bula.
Welcome to you, whoever you are – visitor, new person, regular or occasional churchgoer. You are welcome here, in this Anglican Cathedral for everyone, for people of all faiths and none.

This is the cathedral community's transitional home while the project to reinstate the Cathedral in the Square is underway.
Whether you are needing a place to pray, light a candle, meditate, or reflect, or if you simply want to drop in and see the building, you are welcome. May the architecture, the community, the worship, the music, our superb choir, and the messages here speak to you and nourish you on the journey to fulness of life. 
The Cathedral is open every day until 4:00pm or after the evening service. Please see the Services page for full
details of our services.  If you cannot attend in person, we encourage you to join us online. Click here for links and service
sheets. 
Morning Prayer is said online Monday-Friday at 8.30am. You can participate by clicking here.
Do follow us on Facebook and Instagram ! 
The Cathedral follows best practice to keep everyone safe. Masks are available for anyone who wants to wear one.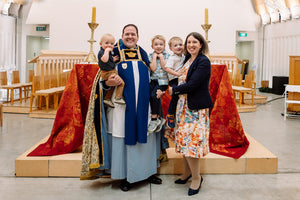 Choral Evensong from the Cathedral in the Square
The service of Choral Evensong on Thursday 3 August was streamed from the Cathedral in the Square, in the midst of reinstatement after earthquake damage. This was the first choral service to take place in the old Cathedral since the earthquakes of 2011.
Click here to watch
Streamed Services
Please click HERE to view the most recent streamed service and to watch previous services.
At this time, with very little income, the Cathedral Ministry would very much appreciate any donation.  If you feel able to help, please click HERE for more information.
DONATE HERE ~ THANK YOU!
Moveable Feasts ~ the Cathedral Caterers
Moveable Feasts are the providers for all catered events at the Transitional Cathedral.  if you have any questions about the wide variety of catered events we can offer, please contact Sarah Robinson, General Manager.
Visit